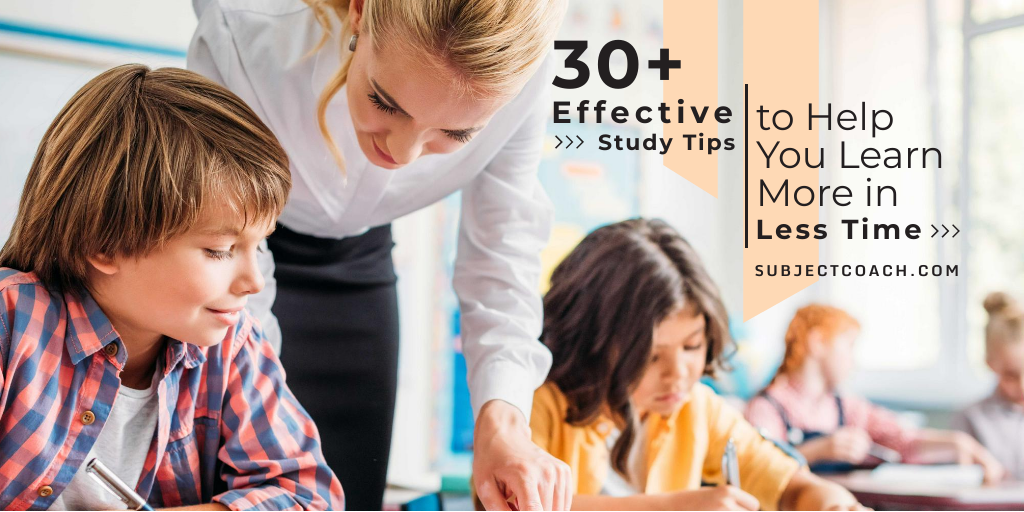 It is a popular fact that smart study is as important as a lengthy study.
This is what distinguishes every student.
Some students slog for hours and remain scoreless whereas some can score with fewer efforts.
As much as we label the later as lucky students, it is important to realise that these students work less on studying by heart and work more on their studying technique.
There are no precise study tips and techniques, but there are certain tips which help you learn more in less time.
These study tips are universal and can help a majority of the students.
So here some of these study tips and hacks that you can incorporate to study smartly.
Tips to Make your Study Effective and Interesting
Speak out loud: If you just read in your mind, you hardly use one sense, i.e., the sight. But when you read whatever you are studying loudly, you utilise many more senses such as eyes, ears, mouth. This allows your brain to grasp and remember what you're studying.
Create connections: Creating mental associations is one of the best study tips. Though it is a bit time-consuming, still it is extremely effective. It comes naturally to those with creative minds.
Pictures speak louder than words: Nothing can beat the power of visual memory while studying. Drawing diagrams and flowcharts have proved effective for almost every student.
Watch videos related to the subject: If you cannot understand certain topics, google it out or watch videos related to it to save time and understand better. Do not wait till the next day to ask the teachers as you might forget to do so.
Mind your space: An untidy study table will discourage you to study. Therefore, always keep it clean and place the table in such a way that it is near all the equipment needed during studies.
Practise makes a man perfect: The more you practise, the better you get at it. Also, practising old question papers can come in handy during answering exams.
Study Tips and Hacks to Memorize quickly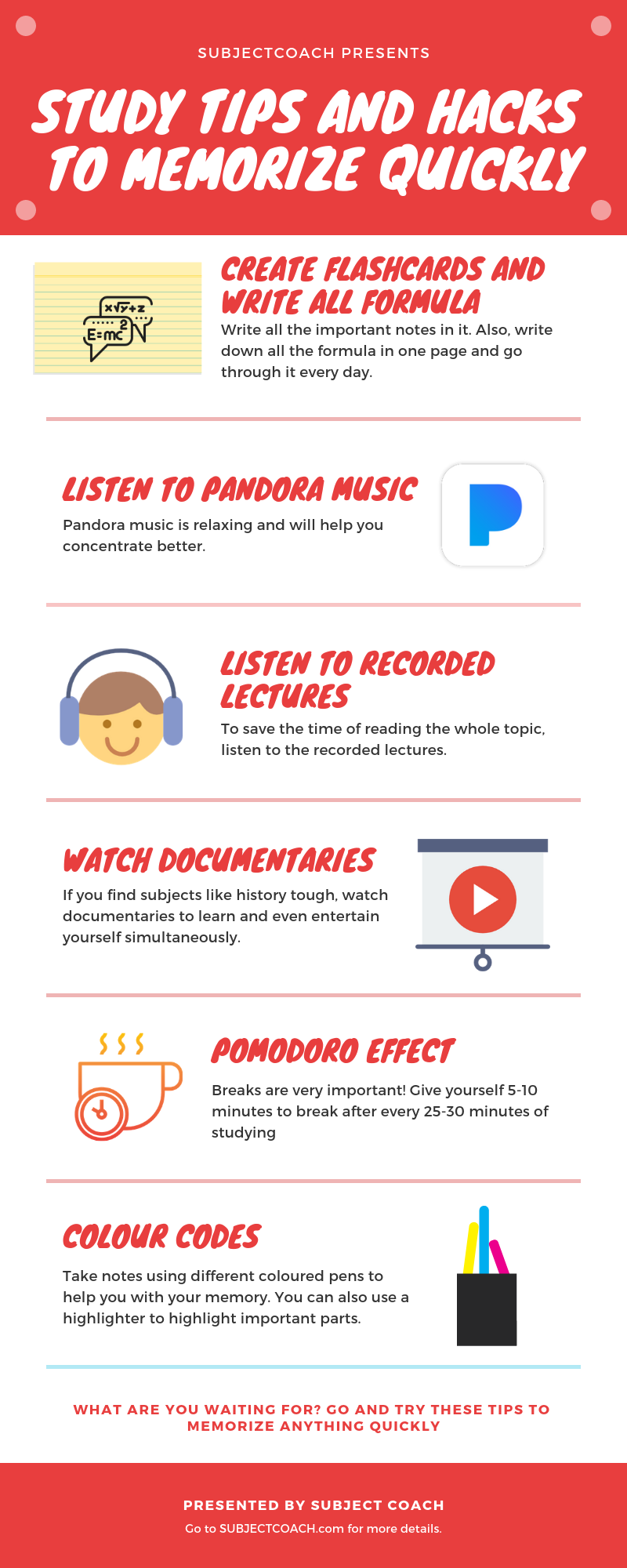 Create flashcards and write all formula: Write all the important notes in it. Also, write down all the formula in one page and go through it every day.
Listen to Pandora music: Pandora music is relaxing and will help you concentrate better.
Listen to recorded lectures: To save the time of reading the whole topic, listen to the recorded lectures.
The magic of times new roman: Times new roman is one of the fastest fonts to read. So use this fact effectively to read online content and study materials.
Watch documentaries: If you find subjects like history tough, watch docomentaries to learn and even entertain yourself simultaneously. Not only can you learn several details in a short time but also fix it in your memory forever.
Pretend as if you are talking to someone: Imagine someone is sitting with you and pretend to explain to him/her while jotting down the notes.
Pomodoro effect: Breaks are very important! Give yourself 5-10 minutes to break after every 25-30 minutes of studying. After three such breaks, take an hour break. This is known as the Pomodoro effect. It takes in to account how long can the brain function and grasp information effectively without causing any adverse effects.
Colour codes: Take notes using different coloured pens to help you with your memory. You can also use a highlighter to highlight important parts. Though many benefits from this, there are a few who feel this is distracting. You need to figure out if you are comfortable doing this and if it is benefitting you in any way.
Tips to Study for a Long Time at Night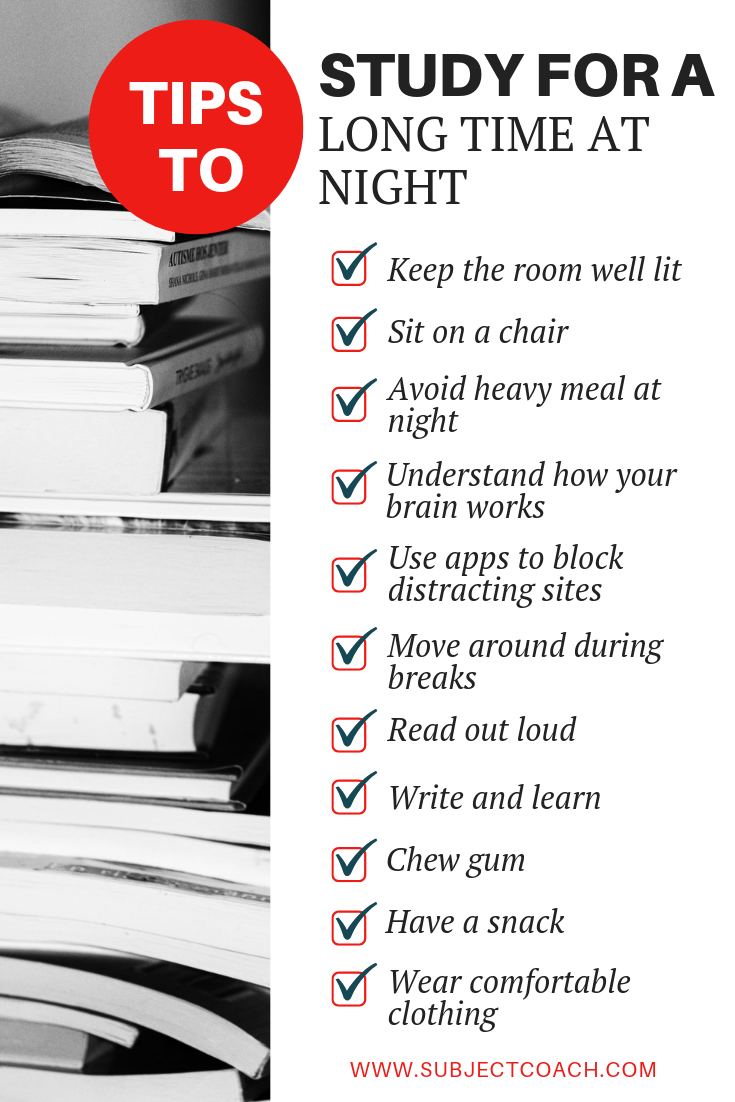 Keep the room well lit: Do not use just a table lamp. Instead, keep your room well lighted to avoid creating a cosy environment.
Sit on a chair: Do not study sitting on the bed. Maintain your posture by sitting on a chair to avoid feeling sleepy. You will undoubtedly fall asleep if you study on the bed, not only because of the comfort it provides but also because your posture is incorrect.
Avoid heavy meal at night: Heavy meals will make you drowsy and lethargic. Therefore, avoid heavy dinner. Also, stay well hydrated to stay alert.
Understand how your brain works: Understand if you can study better at night or early in the morning. Also, avoid studying difficult subjects at night.
Use apps to block distracting sites: Several social media sites might pose a threat to your concentration. Therefore, use apps that block such sites during your study hours.
Move around during breaks: You will feel drowsy if you keep sitting in one place. Move around and stretch during the breaks.
Read out loud: Apart from other advantages of reading loud as mentioned above, reading aloud helps you stay awake.
Write and learn: Again, if your visual power is high, write and learn along with drawing diagrams. It will help you retain information.
Chew gum: Chewing gum helps you stay awake. Moreover, chewing the same flavoured gum while answering the paper can help you recollect what you studied.
Have a snack: If you intend on staying awake for long hours, have a snack to restore energy. Also, you might feel hungry since you had a light meal at night.
Wear comfortable clothing: Wear comfortable clothes to focus all your attention on your studies and not get distracted by any ill-fitted or tight outfit.
Study Tips to Prepare any Exams for Students
Time yourself: As mentioned before practice old question papers and time yourself. Some of the common complaint students have are 'lengthy paper' or 'did not get enough time' after the end of the paper. Practising old question papers will not only help you with these issues but also give you an idea of repeated questions.
Sleep well before the exam: Your brain requires a minimum of 6 hours of sleep to work the next day efficiently. It is useless to sit late before exam since your brain will be unable to recollect what it learned due to inadequate rest.
Walk before the exam: Walk before the exam as it energises certain parts of your brain. Exercise will boost your memory which can improve your performance to a large extent.
Eat chocolates: Eat sweets 20 minutes before the start of your paper. Studies have shown students performed better than those who answered without eating sweets.
Reach the venue at least 20 minutes before the start of the exam: This is equally important to study tips. You stress your mind more by getting late for the exam. You need to reach early and give yourself enough time to relax.
Group studies: Not only does group study help you explain what you learned and thus be thorough with the topic, but not it can also help you understand better as your friends will be teaching you. You learn a lot by group studies even at the last minute.
Mediatate: Once in the examination hall, relax and meditate. Breathe in and breathe out. This helps with reducing the exam stress. There is nothing more powerful than a calm mind.
Stay hydrated: One of the most important studying tips as pointed out earlier, stay hydrated! Drink as much as you can
These are some ways you can study effectively.
But keep in mind that each student has a unique technique which is most suitable to that individual. So what might work for your friend might not necessarily work for you.
Having known that, the first thing you need to do is figure out which is the technique that suits you the best.
Some students have understood their techniques after several years of studies, while others have known it from the start and excelled in academics.
If you still fail to understand it, these study tips and tricks will never let you down.